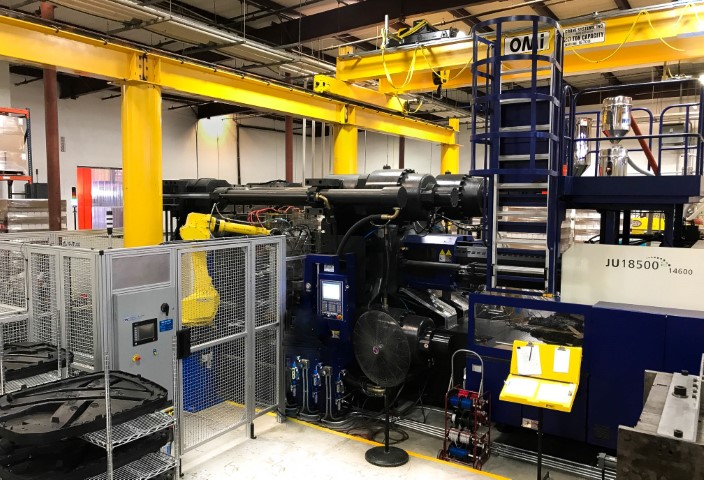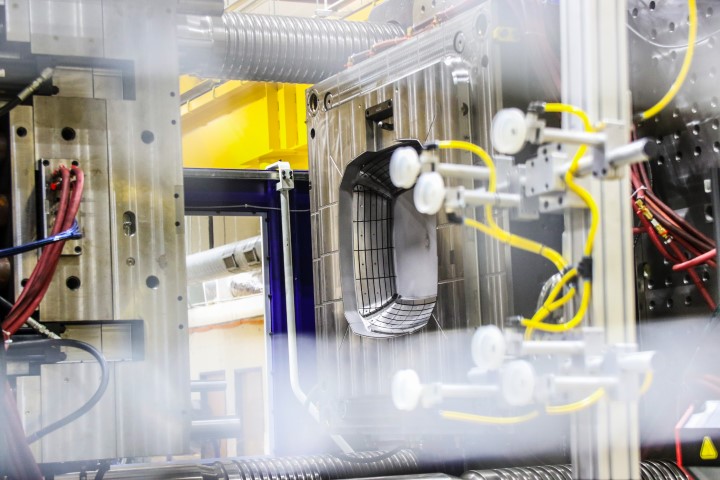 Injecting Molding Services
Since the expansion of plastics into fabrication processes worldwide, injection molding has found endless popularity as a reliable approach to manufacturing. Used in making everything from simple disposable goods to complex automotive parts, injection molding's flexibility and cost-effective qualities makes it worthy of consideration in just about any project.
At R&D Molders, we are experts at injection molding with 40 years of experience. ISO 9001:2008 compliant and lean manufacturing specialists, we are able to mold assembly parts, small to medium parts, and multi-component products out of many polymers. In addition, our automated robotic production allows for fast output and excellent quality.
Materials we work with include common polymers such as ABS, polypropylene, polystyrene, polycarbonate, acrylic, nylon, and urethane, as well as high strength engineered polymers. Our injection molding equipment is capable of 55 to 300 tons of force with 2 to 32 oz. shot sizes. Up to 16 cavities are possible, and tolerances can be as tight at ±0.003". We are also able to integrate overmolding and inserts into our injection process.
Although lead times vary on a job-by-job basis, we generally take 8 weeks to complete orders. Rush services and emergency response services are also available. We welcome orders of any volume and are open to short or long term contract runs. We are more than just a plastics molder: we can bundle value-added services with any order, such as moldmaking, inspection, machining, tooling, clean room molding, bar coding, leak testing, and many others.
To learn more about our services, see the table below or feel free to contact us directly.
Injection Molding Capabilities
General Capabilities
Contract
Consulting
Custom
Prototyping
Turnkey
Quality Control
Transfer Programs
Just in Time (JIT)
Product Validation
Product Capabilities
Assembly Parts
Small Parts
Medium Parts
Multi-Component
Mold Types
Insert Molding
Overmolding
Injection molding
Material
ABS
Acetal
EVA
Acrylic
Nylon
Polycarbonate
Polypropylene
Polystyrene
Polystyrene
Urethane
TPU
TPE
PPS
Equipment Capabilities
Automation
Robotic
Clamping Force
Min
55 tons
Max
300 tons
Shot Size
The maximum weight of plastic that can be displaced or injected by a single injection stroke. Generally expressed as ounces of polystyrene.
Min
2 oz
Max
32 oz
Number of Cavities
The number of cavities in the mold used to produce multiple products in one molding cycle.
Min
1 cavities
Max
16 cavities
Tolerance (+/-)
±0.003"
Additional Services
Engineering
Mold Making
Machining
Quality Control
Lab Inspection
CMM Machines
Product Development
Rapid Prototyping
Tooling
Clean Room Molding
Process Monitoring
In mold Labeling
Leak Detection
Bar Coding
Inventory Control
Lead Time
Generally 8 Weeks
Quoted on job by job basis
Emergency services available
Rush Services Available
Production Volume
Specialty Production Shop
Prototype
Low Volume
Small Run
High Volume
Large Run
Long Run
Large Scale Production Volume Run
Additional Information
Industry Focus
Aerospace
Automotive
Building
Communication
Consumer Goods
Electrical
Electronic
Maritime
Medical
Military
Optical
Industrial
Consumer Goods
Sporting Goods
GSA/DOD
Home & Garden
Energy
Industry Standards
MAPP
Manufacturers Association for Plastics Processors
SPE
Society of Plastics Engineers
ISO 9001:2008
International Organization for Standardization
UL
Underwriters Laboratories
FDA Registered
Efficiency
Lean Manufacturing
File Formats
AlphaCAM (AMD,ATD)
AutoCAD (DWG,DWZ)
BMP
Bit Mapped Graphics
Catia (CATDrawing,CATPart)
Delcam (DGK, DMT)
DXF
Drawing Interchange Format, or Drawing Exchange Format
GIF
Graphics Interchange Format
IGES
Initial Graphics Exchange Specification, ANSI file format.
Inventor (IDW, IPT)
IronCAD (ICD,ICS)
JPG or JEPG
Joint Photographic Experts Group
MasterCam (MDX, MC8, MC9, SET)
PDES
Product Data Exchange using STEP, Standard for the Exchange of Product Model Data. A standard format for exchanging data between advanced CAD and CAM programs.
PDF
Portable Document Format
Pro-E or Pro/Engineer (DRW,PRT,XPR)
SAT
3D ACIS Model File
SolidEdge (DFT)
SolidWorks (SLDPRT,SLDDRW,SLDDRT)
STEP
Standard for the Exchange of Product Model Data
SurfCam (DSN)
TIFF
Tagged Image File Format
TurboCAD (TCW,TCX)
Unigraphics (PRT)